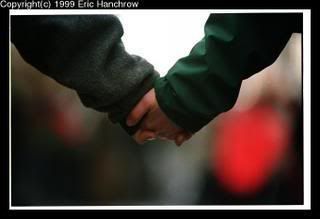 It has been six months today since my husband died. It was winter then with no leaves on the trees or grass or flowers and now summer is almost here. It still seems just like yesterday but time rushes on and we can't recapture those bygone moments even though we would like to. I would love to have that last day again with the knowledge that it would be the last day but of course I know that is just wishful thinking on my part. It is a natural part of the lingering grief, wishing for one last kiss or one last look or one last word of endearment but I remember vividly the last smile and I hold that close in my heart.
Memories still flood my mind when I least expect them. Last week I had to go to a compliance seminar in Golden and so I had to drive up to Denver via the same route that we traveled for years when he was going through his brain surgeries. It never dawned on me that traveling that road again would bring those bitter sweet memories; memories of every stop for coffee, memories of the conversations of what was waiting him, memories of the physical trials and hardships but especially memories of holding his hand coming and going.
He had big, huge hands and from the first years to the last years we always held hands. There is special warmth in a loved ones hand, the intertwined fingers, the rough spots you know by heart and I always knew I could have picked out his hands with a blindfold on because of the familiarity of them. Hands are more than just an appendage; they are an avenue of many things. Perhaps it is a sweet and tender caress, a sign of affection or maybe it is a wave from the door as you are leaving for work. It could be a helping hand with the dishes or making a bed but whatever it is we are connected in a special way when we hold hands.
Which brings me to the porch swing. It's ready now; I cleaned up the porch this last weekend. He would sit out there during the day sometimes to watch the world go by but we sat out there together in the cool of the evenings swinging back and forth, back and forth, sometimes talking, sometimes just listening to the sounds and always holding hands. If we were having a hardship or even a fuss we would sit out there and hold hands as a means of communicating love and closeness amidst the circumstances. I will miss that this year but I'll go out to swing still in the cool of the evening and the memories will come and go seemingly at their leisure.
The trip up to Denver and back gave me pause in the very midst of those memories to thank the Lord for His faithfulness in seeing us through each and every trip and bringing him home so many times when we didn't think he would come home. We had many more years than we ever thought we would and many more years to hold hands, thank you Lord!
Grace and Peace!